With summer now just a passing memory we are well and truly into the midsts of winter, Christmas is just around the corner and the buildup to this event is a busy time on the Farm, ensuring Christmas poultry and meats are fat and ready for the table.
With extended grass growth in the latter summer months, our Herd of Highland cattle are still thriving on pasture and showing excellent gains, we are feeling much more positive about going into the depths of winter than on previous years. With the implementation of new techniques and practices through the summer months we have been able to develop pastures in a way that has seen much more productivity and health benefits for the land, stock, and ultimately the consumer. We feel nothing but excitement and eagerness to implement more of the new system in the spring months, working closely with 3LM (Land & Livestock Management for Life) and developing our relationship and business goals. There will be a follow up article on our work with 3LM and the Savory Institute in the near future.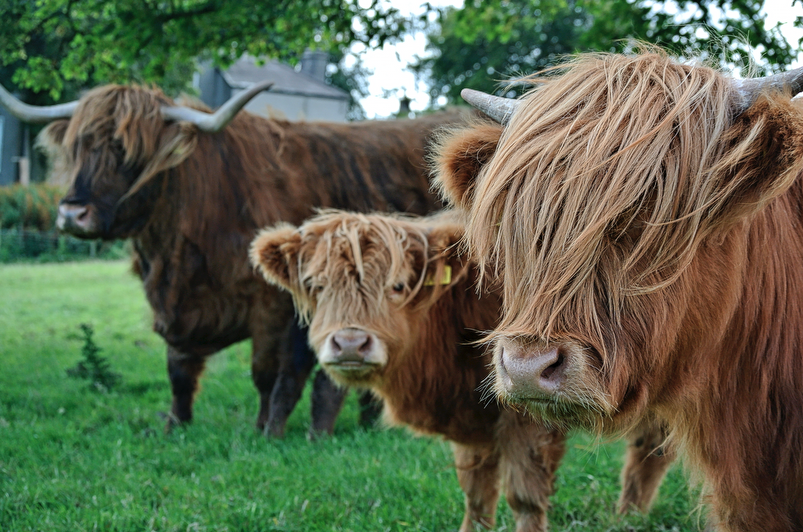 Earlier in the summer months our cattle were run with a lovely quiet Hereford Bull, by the name of Henry, who impressed all the ladies. We are all very excited to see the first of his offspring, towards the end of April beginning of May. This is the first time we will be producing Highland X Hereford cattle, and there are a few reasons we have decided to run this cross; predominately we have put a focus and emphasis on quality of beef, with both cattle being a native and traditional breed. We are super excited to see what these two lovely British beasts produce in the future and whether there's a basis for a new breed similar to the modern Luing cattle, a 5/8 Whitbread Shorthorn X 3/8 Highland.
Our gang of Highland steers have had all summer to fatten on pasture and have made excellent summer weight and growth gains; they are now starting to make impressive beasts and looking better than ever. A few months ago a young heifer was selected for the purpose of becoming Christmas Beef, she has now hit her target finishing weight and quality and will be off in the next few days.  All our beef is grass-fed thought the year and given a natural stress free easy life, this truly reflects in the taste.  Our carcasses are hung for a minimum of 28 days resulting in a beautifully well-aged piece of meat. Less popular these days, but we are keen to use the full animal and are always looking for new markets to get in to; this is why we have decided to start tanning and utilising our beasts hide for sale in the art/furnishing markets.  Nowadays almost 90 percent of UK skins/hides are shipped to the east for processing; we'll be bringing you an update in a separate article on tanning and our future range of Cumbrian Highland cattle skins.
The cattle will be taking it easy over the next few months finishing off pasture grass until after Christmas, before needing extra roughage in there diet in the form of Haylage.  This will also be fed by means of a new system with the aim to decreasing winter tractor work and damage to land.
I hope you enjoyed this article and are looking forward to hearing more about our herd of Cattle, and the rest of our livestock….
Tom Smith – Livestock & Grazing Manager, Cowran Estate