In my last installment I was happily NOT murdered as a result of leaving the city and began my new life in the country. (Read part 1: 'Welcome to the Jungle') But the plot thickens… Even though I can hear sheep bleating while sitting in my back garden, it turns out Barrow is not really 'the country'!! I've recently gone to the next level and have been getting stuck into the 'proper' countryside. Here are my top ten lessons that I've recently learned; I hope you can gain something from my experiences and pick up a few tips too!
1. No matter how giddy you are with excitement about getting to ride a horse, you should try your best to 'play it cool'. Animals are like little Jedi knights and can sense your energy, and that energy should be chilled. Imagine you are at yoga or are just about to get past security at a nightclub with your fake Id.
2. Who knew!? A whip didn't start out in life as something you may have seen in a sex shop window somewhere on Christopher & 7th in Greenwich village. It was actually invented for using on a naughty horse! On the same lines as lesson no.1, resist the urge to smack your whip on your hand for fun while standing near a horse, it makes them nervous. Dig your copy of 50 shades out of the loft and save it for home time folks.
3. Do not scream or shout 'Oh my f*****g God its galloping!" When you canter at 1/4 speed for the first time. That's just ridiculous, not only will you freak out your poor horse but you'll freak out young children who live in earshot, and they will probably come out of the yard and stare at you in bemusement.
4. What on earth do you do when you're driving down a narrow lane and you meet an oncoming car? Don't panic! It's ok. If you know there's a wider bit not far behind you, just breath, take your time and backup slowly. When you get to the wider bit stop, and let the other person pass…if you don't stop, the other person might give you a little honk and give you a silly sort of look wondering how far were you planning on driving backwards.
5. Wear the right kind of shoes. Here's a visual guide for do's and dont's. These have all been tried, tested and evaluated in real life. Wellies are your new best friend, you can be incredibly brave in wellies, because nothing gross can get you when you wear them. You can get some really cool wellies…I've had these Hunter by Jimmy Choo croc effect ones with gold side buckles for years, I got them for when I sang at Glastonbury one year long ago and they have served me well and never better than in recent times. Flat pumps are a no… just because they are flat doesn't mean that they will serve you well in the country. And lastly riding boots. I got some nice leather jodhpur boots with leather half chaps.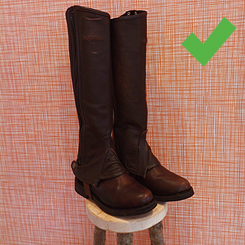 6. Safety first! Don't stand behind a horse, mind your feet and make sure you don't get stood on, be aware of your surroundings, riding in a blissful dream state straight through the path of an incoming polo ball is not advised. If you ride in the lanes wear some bright colours. I've opted for these snazzy orange/red Ralph Lauren jodhpurs, Of course you don't want to spend £275 on pants for riding! I picked mine up new on www.hardlyeverwornit.com for £40! That is your top tip for the day girls! This replaces the idea of wearing those nasty hi-viz jackets… Be bright with a bit of style!
7. Try not to stand in poo, but if you do it's ok. It really will be ok. (*refer to lesson 5)
8. 99% of the people in the countryside are very friendly. You don't have to protect yourself from crazies like you would on a subway or even in Barrow town center. Get into the spirit and smile super big! Wave, say hello, lovely weather isn't it! Breath in the fresh air! Life is great!!
9. If you're walking in a field and see some rocks or stones, collect them and put them to the side on the stone wall because they wreak havoc on farm machinery and by doing this you might have just saved someone a really bad day. Seriously good Karma!
10. When you're on top of a hill and can see rolling green fields for miles and the ocean beyond, and the sun is warm on your skin and you can smell the sweet scent of grass and you feel as though you might just burst with joy at all this overwhelming beauty…remember this countryside magic and try and bring it with you wherever you go.
Thanks for reading! Until next time when I take the kiddies for a day out on the farm!


Nicole X