Cowran Estate would like to offer an official pre-welcome to, the legend that is, Dave Haslam, headlining at this year's Magic Orchard festival in three weeks time! Preparations are well underway, tickets have now completely sold-out, and we can't wait for those lucky few, who did manage to get their hands on one!!
Dave Haslam DJ-ed over four hundred and fifty times at the Hacienda, mostly Thursdays and Saturdays through the 'Madchester' years in the late 1980s when his eclectic, open-minded and ground-breaking DJing became a focus for Madchester's indie dance fraternity. Ian Brown, Tim Burgess, Justin Robertson, and the Chemical Brothers have all credited Haslam as an inspiration. His periods at the club were 1986-1990, 1991-1992, and then he returned to play at the club in 1996; he was DJing on the last night the Hacienda was open; June 28th 1997.

In the 1990s he hosted 'Freedom' and 'Yellow' at the Boardwalk and DJ-ed at the likes of 'Cream' in Liverpool, 'Angels' in Burnley, Home in London and round the world; including Ibiza, Chicago, Reykjavik, Paris, Lyon, Berlin, Dublin, Zurich, and Detroit. His gigs with bands include shows with the Stone Roses (at the Hacienda, Blackpool Empress Ballroom, Alexandra Palace, and Spike Island) and New Order at G-Mex. He's played at afterparties for New Order, Gorillaz, and Depeche Mode. His festival appearances include 'Creamfields' (1998, 2008), 'Standon Calling' (2010), 'FOM Fest' (2011), 'Kendal Calling' (2011, 2012, 2013, 2014), and Festival YEAH! in Lourmarin, France (2014).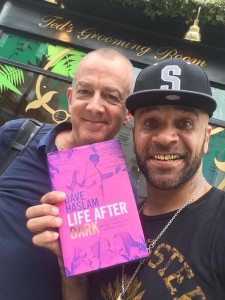 He describes his DJing philosophy as "playing the best records ever made one after the other" and his style as "eccentric/eclectic"; he has been described as "the man with golden ears". As well as his place in the history of Manchester clubs, he has pursued a career as a writer and journalist and has also been identified as one of the earliest and most influential champions of the new generation of Manchester bands; including Everything Everything.
He currently hosts a number of club nights in Manchester, notably the successful guest-list only 'Sweet Sensation' night, at various venues, and a once-a-year 'Yellow' Reunion. Away from Manchester, he has recently played in Lisbon, Cleveland, New York, Paris, Barcelona, and Geneva.
….and in September 2015 is playing Magic Orchard!!
Dave is also noted for his writing; among his titles; Life After Dark: A History of British Nightclubs & Music Venues, and Not Abba; the Real Story of the 1970s, among others, all available at davehaslam.com/books; and his interviewing; check out the video of him interviewing John Squire (Stone Roses) on XFM, right at the bottom of the article!