Cowran Estate's Magic Orchard welcomes The Orchid Hunters!
"If I could build a house on stilts, I'd live out in the ocean" – Plum Island
The Orchid Hunters were a funky, upbeat pop infused band, until recently when a membership change has put them on a different musical path. The band decided to forego percussion and focus on a three-piece format, using pretty acoustic melodies and intricate harmonies.  This eclectic style is product of influences; from Red Hot Chili Peppers, to Lady Gaga.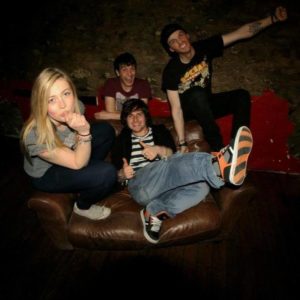 Hitting every gig with high energy performance and grooving melodic rhythms, the threesome provide a funky combination of fresh guitar, and fearless bass fronted by Beccy's eccentric and unpredictable vocal hooks.  The band always manages to put a smile on faces and brings a good vibe to every gig.
Ex-Kendal College music students Beccy, Gaz and Taighlor (Dizzle) have featured on the Woodlands stage and Lakeside Sessions at Kendal Calling twice and have numerous radio plays through the BBC Introducing program and have now re-located to the Musical Metropolis of Manchester to further their musical ambitions!
The band's latest single, Champagne Skies, is 'a fusion of tight grooves and catchy melodies' which has fans bouncing around and is an enticing promise of things to come from The Orchid Hunters. 
Members: Beccy Sykes – Guitar, Synth and Vocals; Taighlor Wilson – Guitar and Vocals;  Gaz Tyson – Bass and Vocals
Following Magic Orchard this year, they will be playing at Koh Tao in Fallowfield on 25th September and a charity gig at The Nines in Barrow on 26th September.
[fblike url="www.facebook.com/theorchidhunters" style="standard" showfaces="false" width="450″ verb="like" font="arial"] [twitter_follow username="orchidhunters13″ count="false" language="en" width="450″ align="right"]